Christian Peter Lübeck and Lin Ea Cenholt from Denmark hold top spot in the World Championships Nacra 17 in La Grande-Motte in France.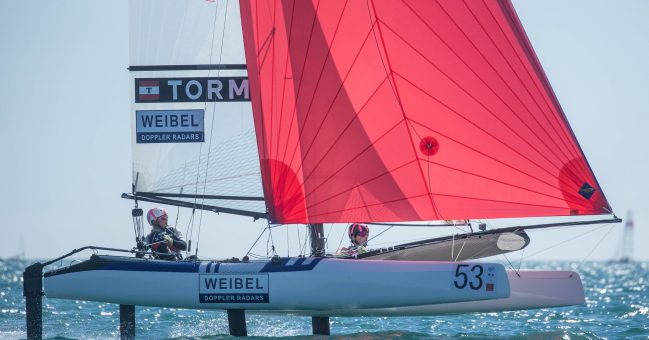 After a relatively kind and gentle introduction on Tuesday to the World Championships Nacra 17, the first ever in foiling 2020 Olympic flying mode, Baie d'Aigues Mortes of La Grande Motte in the South of Camargue region of France turned up the heat today as the Tramontane breeze of the northwesterly kicked in the afternoon.
For the day, a solid 3, 4, 4, from Lin Ea Cenholt Christiansen and Christian Peter Lübeck, moved the World Championship Aarhus 2018 Test regatta winners' six points clear of Katie Dabson and Ben Saxton of Great Britain's.
For both the fleets for the first qualifying heats racing got away in 8-9 knots before the break waiting to see the forecast breeze.
For the Italian Nacra 17 team, it was the great day. The squad started their leaderboard ascent. Recently crowned champions from European Caterina Banti and Ruggero Tita, universally recognized as one of the fastest teams upwind, spring back from the day one with a second and first gained as soon as the breeze was in, to move up to third.
The best scores of the day came from compatriots Maelle Frascari and Vittorio Bissaro who sailed to a 1, 2, and 3 after the result of three mid fleet on Tuesday.
Tita said, "Surviving was the key to our race course. On the downwind, we were not doing any other thing except just trying to survive, and when the upwind came, we gain some momentum and sailed little faster. However, the second two races were very difficult, and it was completely out of our control, sometime, we were flying and sometime jumping. After that we got the upwind and that made a difference in our race."