Christian Peter Lübeck and Lin Ea Cenholt from Denmark hold top spot in the World Championships Nacra 17 in La Grande-Motte in France.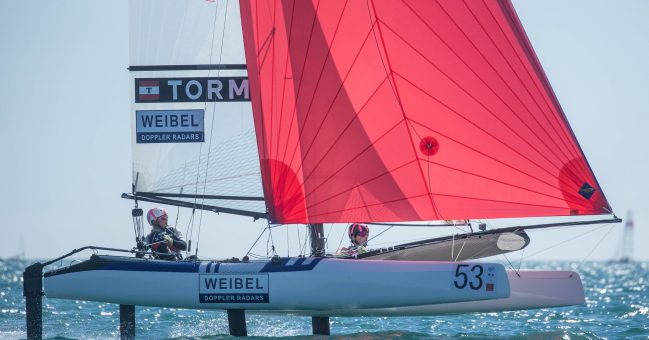 After a relatively kind and gentle introduction on Tuesday to the World Championships Nacra 17, the first ever in foiling 2020 Olympic flying mode, Baie d'Aigues Mortes of La Grande Motte in the South of Camargue region of France turned up the heat today as the Tramontane breeze of the northwesterly kicked in the afternoon.
For the day, a solid 3, 4, 4, from Lin Ea Cenholt Christiansen and Christian Peter Lübeck, moved the World Championship Aarhus 2018 Test regatta winners' six points clear of Katie Dabson and Ben Saxton of Great Britain's.
For both the fleets for the first qualifying heats racing got away in 8-9 knots before the break waiting to see the forecast breeze. Continue reading "At Nacra 17 Worlds Tramontane Turns Up The Heat"